There are many different kinds of drainage solutions available to you depending on your needs and budget. At Martin's Seamless Gutters, we can install them all.
So how do you know if your home or business needs a drainage solution? Well, quite simply, if water is pooling around your home and/or is not soaking into the soil quickly enough, you need drainage to redirect it elsewhere. Even if you do not have seamless gutters, certain kinds of drains can still be installed to manage the water around your home. We can even install multiple kinds of drainage that link together into a system as a custom solution for your exact needs.
There are endless amount of drainage systems that can consist of multiple kinds of piping, but we are going to go over the three most common ones in this blog post – French drains, drains with collection boxes, and dry wells. A common mistake made when installing drains, is not using a level to make sure the water is going the right direction – that can cause severe issues. When we install your drainage system, we do it right the first time!
Collection Boxes / Direct Attachment to the Downspout
The most common type of drainage system we install consist of collection boxes near your downspouts that take the water and redirect it to another part of your property – usually near your back fence or all the way to the front of your home to allow the water to flow into the gutters on your street. These systems can be built with either corrugated or PVC pipe – depending on your preferences and budget. Corrugated is the way to go if you have a tight budget and do not have lots of debris flowing through your gutter system. PVC is more expensive and harder to work with, but it can handle debris inside the system with less chances of clogging than corrugated. It is important to note that we can also directly attach the piping to the downspout to bypass eliminate collection boxes if they aren't needed.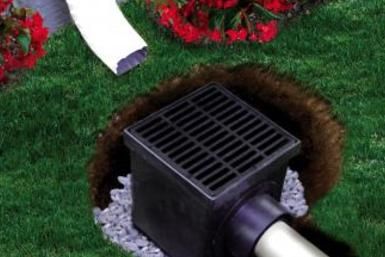 The picture above is a collection box that is placed under your downspout that takes the water away from your home. These boxes also can also redirect any standing water in your yard if, for example, your yard slopes towards your home.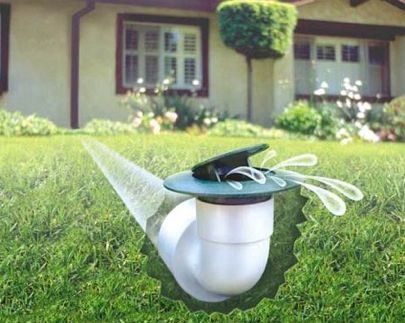 The above picture shows a downspout that feeds water into either a collection box or through direct attachment that takes the water all the way to the street to allow the water to flow into your neighborhood's gutter system.
French Drains
These drainage solutions do not necessarily require a seamless gutter system to be effective. They are built using a percolating avenue such as gravel, river rock, or composite materials and are best for yards that hold a large amount of water after a rain that isn't suitable for management with collection boxes. However, we can (and often do!) tie your seamless gutters into a French drain to make sure all of the water, regardless of where it is coming from, flow to a suitable place. Just like with collection box systems, these must be properly leveled to ensure flow. Furthermore, French drains can add be a beautiful addition to your home!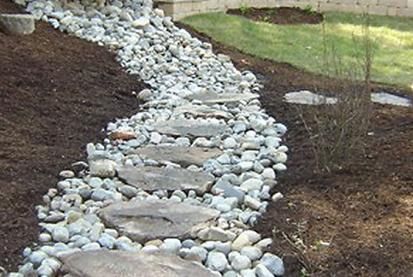 The image above is an aesthetically pleasing French drain that also redirects water away from your home.
Dry Wells
So, what do you do if you have no suitable area for the water to be redirected or you have poor percolating soil? A dry well is the answer! Dry wells can be the endpoint of any type of drain. It allows the water to percolate into the ground and consists of of seamless gutters, 4″ drain lines, and a collection box/barrel surrounded by filter fabric and gravel. This keeps water from standing in your yard.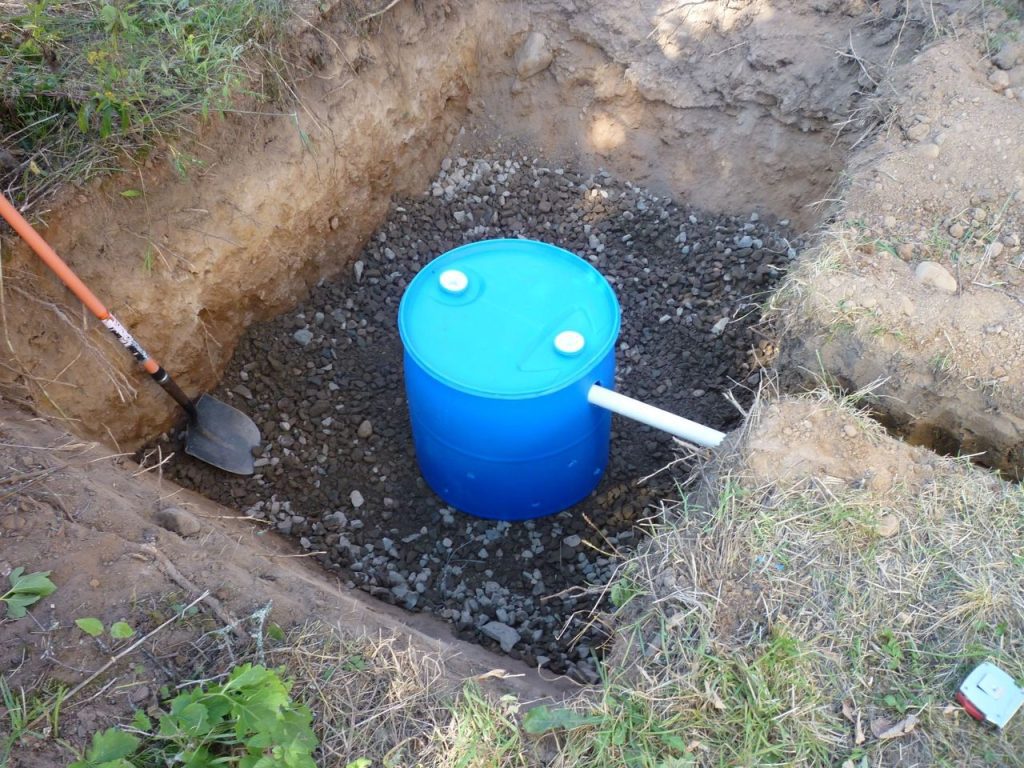 Above is a dry well using a barrel to allow water to percolate into the ground.
We hope this will help you make a decision on your drainage system. Give us a call at 850-324-8000 today or contact us to get a free estimate on a custom tailored drainage system for your home or business! We are always ready to handle all of your gutter installation needs!